WHY GRS?
Simplified Rewards Worldwide
With one API you can now procure rewards in one country…or one hundred countries.
Seamless Integration
We've engineered Rewards Cloud to be easy to connect with clear APIs and friendly onboarding support. And as your business grows, Rewards Cloud can scale to offer more features, more rewards, and even availability in regions around the globe.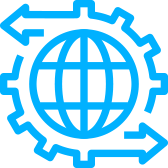 Painless Management
You come to work every day to grow your business, not wrangle rewards programs. That's our expertise. We manage the fulfillment of over 10 million items, for thousands of companies, in 38 languages, 63 currencies and 185 countries… so you don't have to. We've built Rewards Cloud to help efficiently engage, inspire and motivate your employees and customers, all while minimizing the time you need to spend worrying about it.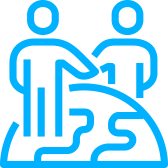 Loyalty
Loyal, repeat customers help grow your business. Our GRS solutions increase customer loyalty by motivating them to spend points on the rewards they love. Our vast catalogue includes many low-point redemption items (like gift cards for as low as $5) — helping ensure that every customer gets an opportunity to experience the thrill of receiving a reward, and keeping your outstanding point liability low. By creating a positive shopping experience that keeps customers coming back, we help your keep those repeat consumers while attracting new ones.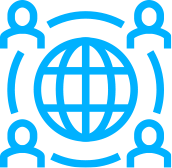 Procurement Engine
We are a global procurement company that always feels local. Based in North America, we have offices around the world including China, Australia, and the UK. Our skilled network of in-country procurement specialists purchase rewards locally, enabling faster delivery, and lower taxes and duties. We reduce procurement overhead by managing all of the processes and data, and have responsive 24/7 customer service to answer your questions and resolve any issues. To simplify currency details, we covert all currencies (currently 63) on the same day and at the current rate.
Financing
Financing purchases within the loyalty space is a completely new option. Our variable recurring payment solution provides "instant financing" to programs. The Storefront user experience seamlessly integrates instant financing requirements, including the presentation of recurring payment amounts by payment term, the capture of the desired payment method, and the execution of a credit check. Our financing option is the first of its kind and allows you to finance with points or credit. We have many payment options available such as Apple Pay and PayPal.
Global Tax Compliance
GRS offers complete tax transparency and compliance, giving you full access to all tax information necessary for seamless reward transactions.
Innovative Technology that Works
We Care About the World
Ethical Sourcing
GRS is committed to ensuring that all of our rewards are ethically sourced, in every country that we operate.
Cultural Relevance
We have buyers based in each region who source local in-country products and services that are culturally relevant.